By: KATE KEIR (she/her), SNOWBALL MANAGER
I am fortunate that Operation Snowball has been a part of my life for a very long time. I benefited from the program as a teen, returned as an adult volunteer staff member, and two and half years ago I became the Snowball Manager. The best part of Snowball to me is the opportunity to bare witness to the growth of those who choose to be a part of this community.
Recently, I was able to connect with our most recent Teen Directors, Olivia Zabel and Jenna Smiley, and ask them about their Snowball experience. Jenna and Olivia planned the event and led their staff to create our first in-person Snowball retreat since 2019. The event hit max capacity for the space and was overall an incredible experience. The theme of the event was Who I am, and the participants were encouraged to reflect on their experiences and explore their own personalities.
What have you learned through Operation Snowball?
Olivia shared that through Operation Snowball, she how to be herself, take off the metaphorical mask that she wears and ask for help when I need it. These things are something she felt like she always struggled with especially when in middle school and when she first started high school, but through Operation Snowball she was taught how to be her true self. She said, "People should respect me for Who I Am." Olivia also learned that asking for help is ok and it doesn't make you weak, but it makes you stronger.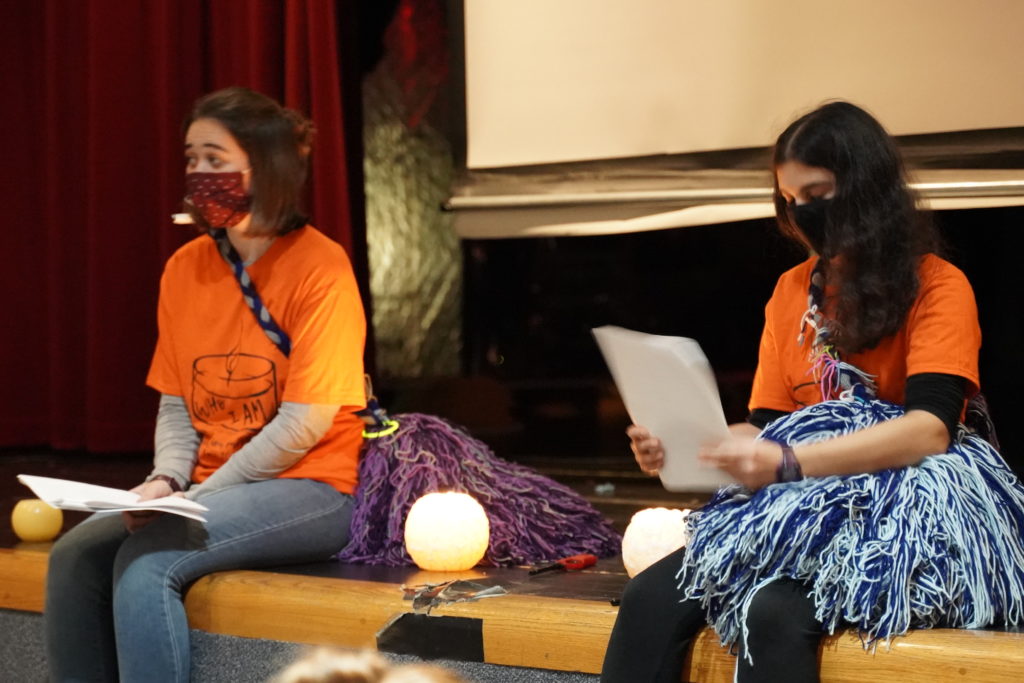 Jenna was able to learn that it is ok to take a healthy risk and be able to be your true self. She also learned that you are not alone with hard times. It is ok to be vulnerable and talk to other people about hardships that you have gone through. Even if people you talk to aren't going through the same thing, the environment teaches people to lend a helping hand.
How does Operation Snowball impact social emotional health?
Olivia and Jenna believe that Operation Snowball impacts social-emotional health because it gives you a great support system and it provides you with so many resources that are available for you to use. Operation Snowball gives people the opportunity to talk about things that people go through so that they feel empowered.
Jenna shared that she was able to make new friends who were able to support me during the good and the bad. Being in a judgment-free environment without social pressures meant she could remove the mask and be herself in a healthy, safe environment.
What was the most meaningful part of the weekend?
Jenna enjoyed seeing people reach out and be vulnerable. It is amazing how others can show their heart and be able to support someone. This program has given Jenna hope to get out of hard times. As a staffer and teen director seeing people being vulnerable and getting comfort out of activities you planned is beautiful. People have said that snowball was the place to express themselves.
For Olivia helping to grow the Snowball community for our in-person Snowball in two years was particularly special. Though it was not easy at times, she felt it was the most rewarding and most worthwhile thing she has ever done. She said that "since my Freshman year at my first Snowball "Unstoppable" I remember telling my best friend that when I was old enough, I wanted to be on staff, lead a small group, make a small group area, and be a Teen Director, but I remember not being super hopeful about accomplishing it all. Looking back, I wish that I had more faith in myself because it all came true and I couldn't be more proud of the weekend that we made." Something else that was super meaningful to Olivia was that the small group that she helped lead, was full of all first-time Snowball participants and at the end of the weekend, they all said that they were all for sure coming back in the spring. This was amazing to hear because even though they have never been to a Snowball event before, they all loved the weekend and want to do it again in the spring and even go on to future years!
Why should someone join us in the future?
Olivia thinks that someone should join us in the future because Operation Snowball is one of the most caring, accepting, and loving communities there is. Through this program, She has learned so many amazing life lessons and skills that she can use now and in the future. Nowadays, she feels like connections have been lost through the whole pandemic itself, but with Snowball, you connect with so many people from different backgrounds, different schools that you otherwise wouldn't have known before, but now you talk to them every day.
"All in all, Operation Snowball is one of the best communities that you can be a part of and you can join us for a Spring event April 23rd and 24th! Take the healthy risk to sign up, you won't regret it!"

Olivia Zabel
Jenna says people should join us in the future because it allows people to be themselves and get away from the stressors of everyday life. People can connect with others with different perspectives from different schools. They can learn how to help others and how to be themselves. Operation snowball is a great community that is amazing to be a part of. Come join us in an experience you will never forget!
What did you and your peer get out of the Staff experience?
Olivia made new connections with people throughout Snowball Staff and got more of an understanding of how to facilitate and lead groups. Jenna gained a second family that is always loving her for who she is and was able to gain the knowledge on how to help others in a warm supportive environment.
What's next for Operations Snowball?
We look forward to our Spring 2022 retreat: Courage is Contagious, held on April 23 & 24, as a local, 2-day event.
If you, or a teen you know, is interested in joining our staff, applications for Spring are due 2/4.